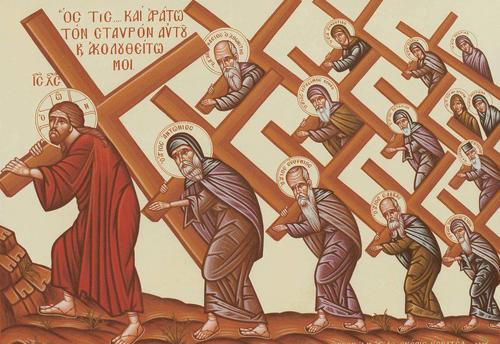 Jesus sometimes sought to rest (and failed), and Jesus walked through the crowds untouched. Jesus said "It is not my time.". There is a time to turn away from suffering.
Jesus also said, "My time has come," and handed himself to God's will to suffer. Jesus handed himself over to abuse and torture, when the right word could free him.
When and how we suffer is a personal decision, between us and God. If anyone commands us or forces us to suffer, that is oppression. If any one
commands us not to suffer, they are being a busybody.
Suffering should be a choice, a personal option.
* * *
The cross is easy to accept when you take out the part where Jesus says "Now you carry it" and replace it with the lie, "I carried it so you don't have to."
The cross is custom fit for every follower of Jesus. If anyone tells you that hardship isn't for you to bear, just tell them what Jesus did, "Get behind me, Satan."
* * *
Jesus sometimes chose to suffer and sometimes chose to rest. But when he made that choice, it wasn't simply about God's will or about what would be personally best. He made his choice based on love.
Jesus taught us that there are times love requires us to suffer. Requires us to put ourselves last so we can put others first. That we are to take up the cross so that others might live.
But if our suffering does no good to anyone else, if it causes others to suffer, if it mak
es us full of rage, then we should not choose suffering, or learn to bring better balance in our lives.
Our lives are to be about loving the people we know in greatest need, without being the cause of their pain. Love is always the answer.